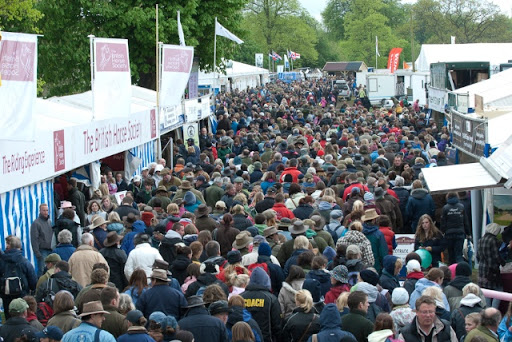 An extra shopping day for 2011
Dates for the Mitsubishi Motors Badminton Horse Trials 2011 have been extended, adding an additional days shopping and competition to the start of the event. The event will now officially start on Thursday 21st April with exhibitors opening their stands on first inspection day for the first time.
Due to a packed international event calendar, clashes with Rolex Kentucky CCI****, and TV scheduling contractual commitments this means Badminton runs over the Easter weekend in 2011. The final day of the Mitsubishi Motors Grassroots Championship will also run on this Thursday giving spectators a chance to see many of the best amateur riders tackle a specially built cross country course in a bid to be crowned Grassroots Champion 2011 before the formalities of the main event get underway with the first horse inspection.
Hugh Thomas explained, "The reasons for this date are related to the international eventing calendar, in that it would be impossible for us to clash with the 4 star event in Kentucky, who cannot move in 2011 because of other longstanding commitments in Kentucky Horse Park. We are committed by our international TV contract to finish broadcasting on a Bank Holiday Monday and this leaves Easter as the only other weekend on which this is possible which we fully understand is not desirable for everyone. Kentucky has agreed to change their date in the next clashing year, which will be 2016."
Grassroots Championship Cross Country on the Thursday
With regard to extending the dates of the event Hugh went on to explain, "After extensive consultation with Exhibitors, we have decided to open the event to the public one day earlier than usual, i.e. on Thursday 21st April 2011. Tradestands will be open for business on this day, together with public catering and other facilities (though not the Members or Portcullis ringside marquees). On this day, the cross country course will be open to the public as well as the riders; the First Horse Inspection will take place and most importantly we will hold the Show Jumping, Cross Country and Prizegiving for the Grassroots Championships, started here this year."
A much lower entry fee will be charged to the public for this Thursday and it will be included 'free' in season tickets.
CCI**** Cross Country action on the Easter Sunday will start a little later than normal to accommodate a special church service held on the showground in the morning by the Rector of Badminton, open to everyone attending the horse trials.
The dates for 2011 are Thursday 21st - Monday 25th April 2011.